Pre-heat oven to 400ºF

Combine dry ingredients in a large bowl:
2 cups flour
1 tbsp sugar (optional)
4 tsp baking powder
1/2 tsp salt

Cut into the dry mixture, using fork or pastry blender:
1/2 cup shortening

Combine in a small separate bowl:
1 beaten egg
2/3 cup milk

Add egg/milk mixture to dry mixture, mixing until just combined.

Roll out on a lightly floured surface to 3/4 inch thick, and cut into into circles, 2-inch in diameter, using a cookie cutter of drinking glass. Place on cookie sheet (should not need greasing) and bake for 10-14 minuites until the edges are golden brown.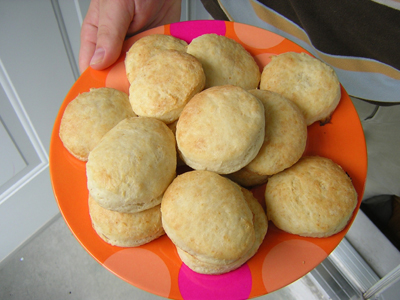 » Go to Tiffany's Recipe Box
» Go to tif.ca