FOR WONTONS:

Add to a bowl:

1/2 lb ground pork
1 large egg yoke
2 scallions, finely chopped
1 (1.5 inch) piece peeled fresh ginger, finely chopped
1 tablespoon soy sauce
1 teaspoon rice vinegar (not seasoned)
1/2 teaspoon seaseme oil
1/2 teaspoon salt
1/4 teaspoon pepper

Mix with hands until just combined.

Put 1 wonton wrapper on a work surface (keep remaining wrappers covered with plastic wrap so they do not dry out). Fill with a rounded teaspoon of filling in centre of square, then brush water around edges with your finger. Fold to create triangle and press firmly to elimate air pockets and to seal. With the folded side up, curl opposite ends of up towards each other, and using water to moisten, press corners together.

(SEE PICTURE BELOW)

Makes about 30 wontons (I.E. half of one package of wonton wrappers. They come packaged so you can chose to use only half at a time.)


FOR SOUP:

Bring to a boil in a 5- to 6-quart pot:

12 cups chicken stock
4 scallions, finely chopped
1 (2-inch) piece peeled fresh ginger, finely chopped or thinly sliced

Once boiling, add:

1 large bok choy, leaves halves then stalks and leaves thinly sliced crosswise

Simmer 3 to 4 minutes until crisp-tender. Add wontons, stirring gently until filling just cooked through, about 3 minutes (cut 1 open to check). Serve immediately.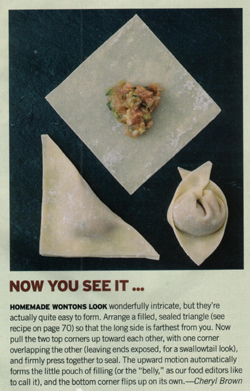 » Go to Tiffany's Recipe Box
» Go to tif.ca